We are Fairmint
We founded Fairmint to transition the world toward a stakeholder capitalism. Our decade-long experience as entrepreneurs & investors has forged our conviction that tomorrow's successful companies will be those that let their community participate in their success. This is why Fairmint exists to give founders the opportunity to turn their equity into their most powerful community engagement tool.
Invest in Fairmint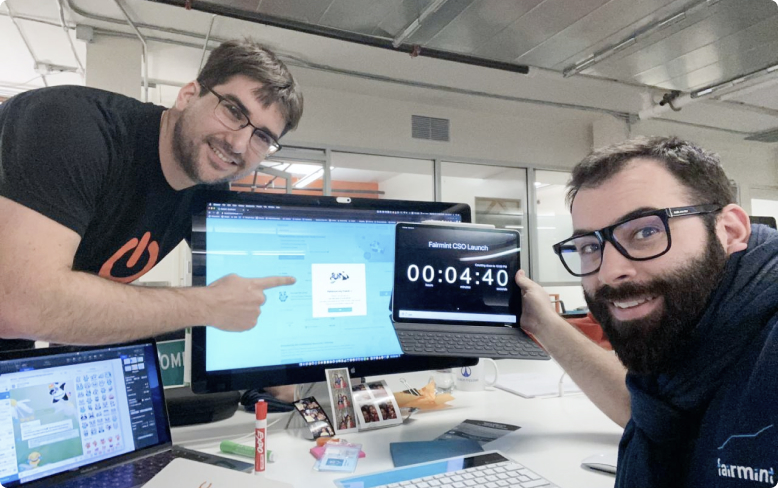 Content
Enter the stakeholder capitalism era
Make your equity programmable
From 0 to live in 4 steps
Increase your chances of success
Become a 21st century company
Enter the stakeholder capitalism era
The digital economy has radically changed the nature of the relationship between customers and corporations. Individuals have switched from being passive consumers to being an essential force in creating value, either by their actual work (Airbnb, Uber, Apple's App Store, Amazon Marketplace...) or through their data (Facebook, Google...). For that reason, financially aligning stakeholders to the success of the company is now the strongest competitive advantage that a company can build. Yet there is no easy solution to do that today. The letters sent by Airbnb and Uber to the SEC asking to let them give equity to their hosts and drivers respectively are a perfect attestation of both the problem and the opportunity.
Make your equity programmable
Fairmint gives founders the opportunity to turn their equity into the most powerful tool to engage with their stakeholders.
With Fairmint, founders can launch a continuous securities offering based on a fixed percentage of their company's equity. Such offerings enable stakeholders to buy and earn convertible securities at any single time, directly from the company's website.
These convertible securities are called Rolling SAFEs (Rolling Simple Agreement for Future Equity). They are issued automatically whenever the demand exceeds supply and are priced algorithmically, based on investors' demand. The Rolling SAFE has wonderful properties:
Rolling SAFEs are programmable, enabling companies to create the automated stakeholders incentivization plan that is perfectly aligned with their company's objectives.

Rolling SAFEs are regulatory compliant instruments, the compliance being enforced on-chain (transfer restrictions, lockup periods…), bringing regulatory safety to issuers.

Rolling SAFEs are fully digital securities (ERC-20 compatible) that are tradeable on decentralized secondary markets and compatible with the whole decentralized finance ecosystem.
Fairmint enables companies to provide a unique investment experience directly on their website, without requiring any license. Indeed, by relying on the decentralized finance stack, companies don't have to custody any fund or execute any transaction on behalf of their investors.
As a technology provider, Fairmint can serve companies worldwide simply by adapting the legal CSO offering to the jurisdiction of the company. In summary, using Fairmint, companies can use their equity to let:
Engaged customers earn ownership in the companies they love & use to build wealth alongside them.
Sophisticated investors invest in the private companies they believe in with a clear path to liquidity.
From 0 to live in 4 steps
Decide on an equity allocation. How much are you hoping to raise? How much equity do you want to allocate for your stakeholders? Do you want your employees to be incentivized with Rolling SAFE too? Would your investors like to convert their SAFE to Rolling SAFE (that will clean you cap table while providing them with a clearer path to liquidity)? What would your ideal stakeholder plan look like? Answering these questions will help you come up with a proper allocation

Draft your Continuous Securities Offering. We provide a template of the Rolling SAFE in many different jurisdictions and can provide you with a list of securities lawyers with whom we're working, who are already familiar with the Rolling SAFE. And if we don't yet have a template of the Rolling SAFE for your jurisdiction, we'll work with you to create it and launch the Rolling SAFE in your country!

Send us the elements of your brand identity. We take care of personalizing your stakeholder backend to match your brand identity. You'll only need to point the domain name you'd like to our server: (i.e. invest.yourdomain.co) and that's it!

Connect your investment portal to your website. Place a call-to-action on your website to start engaging your stakeholders. You're now all set! Place a call-to-action of your choice ("invest now", "join the community" etc…) on your website and start engaging your stakeholders to invest and/or earn equity of your company.
Increase your chances of success
Using Fairmint has many benefits over traditional equity offering while remaining 100% compatible with traditional equity financing:
Traditional Equity Offering
Rolling SAFE Offering
Equity Dilution
Incremental.
Every new round of financing makes you lose long-term control over the destiny of your company in the form of relinquishing governance and control rights.
Fixed.
Your Rolling SAFE offering has a fixed dilution, no matter how much capital you end up raising. On top, shares issued on conversion of a Rolling SAFE by default do not require relinquishing governance and control rights. You stay in control.
Management Focus
On fundraising.
Fundraising is a full-time job and distracts you from growing your business.
On the business.
Once launched, anyone can invest at any single time without you being involved in the process.
Stakeholders Incentivization
Employees only.
With traditional equity offerings, you usually create a stock option pool for employees, stakeholders are left out.
Any stakeholder.
A Rolling SAFE offering gives you the ability to create a stakeholder incentivization plan specific to your business.
Stakeholders Liquidity
None.
The only way to get liquidity for stakeholders and investors is to sell the company or to file for an IPO.
After 1 year.
With a Rolling SAFE offering, you orchestrate the liquidity of your stakeholders, investors and yourself.
Typical Participants
Professional investors.
VC and business angels.
Professional investors & everybody else.
Stakeholders, Seed & Pre-seed VCs, business angels & LPs.
Become a 21st century company
Fairmint offers companies access to better equity:
Programmable. Transferable, divisible, computable equity unlocks a new world of automated equity fundraising or incentivization scenarios.

Passively enforced legal compliance. Through the use of smart-contracts and non-custodial technologies, Fairmint prevents issuers and stakeholders from committing theft or fraud.

Disintermediated. Passively enforced legal compliance removes the need for trusted middlemen and enables a direct connection between issuers and stakeholders.

Natively transparent, persistent and auditable. Fairmint uses Ethereum as a single, open and trustworthy system of record for equity.

DeFi native. Fully interoperable with the fast-growing decentralized finance ecosystem: software-based secondary trading, lending, pooling, indexing… is natively available to issuers.
Equity powers the entire stack of entrepreneurship and is the most powerful tool to align financial interests. It is also the greatest wealth-building financial instrument. Until now, the absence of a single, global, open and interoperable system of record for equity hampered innovation and the democratization of equity ownership.
Leveraging DeFi, Fairmint lets you create better, scalable, equity to enable the advent of a stakeholder capitalism that will give billions of people the ability to build wealth alongside the products & services they love and use.
Nick
Smart-contract development
Tarj
Front-end development
Taek
Smart-contract development
We are looking for new talents
Content
Enter the stakeholder capitalism era
Make your equity programmable
From 0 to live in 4 steps
Increase your chances of success
Become a 21st century company